Ports in Kuwait (released by Holland Gulf Chamber of Commerce in 2011)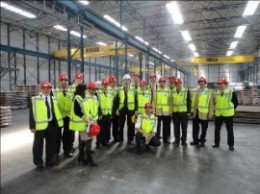 Looking for Dutch expertise and knowhow, a Kuwaiti delegation of senior representatives of the Kuwaiti port sector visited the Netherlands on March 2011. The Kuwaiti delegates represented Kuwait Port Authority, Kuwait Ministry of Public Works, KGL Port International, Kuwait Oil Company and other major organisations in Kuwait. The tour included visits to Port of Rotterdam, Port of Amsterdam and other leading companies in the Dutch port development and logistics management sector. This visit came as part of Kuwait's long-term commitment to boost economy through becoming a transport and logistical hub in the Golf region. The Kuwaiti government is investing US$108 billion to modernise the country's infrastructure including its harbour facilities. Kuwait is currently building Boubyan seaport, the largest harbour at the head of the Gulf region at an estimated cost of US$1bn. Other existing ports in Kuwait are also witnessing major modernising and upgrading schemes.
In support of its ambitious plans, port owners and operators in Kuwait is on the look for the latest technology, innovation and trends in the design, construction, fit-out and operation of port facilities. Dutch infrastructure companies enjoy an excellent reputation in Kuwait and Kuwaitis are seeking partnerships with leading companies in the Dutch port industry to help them with achieving their port development projects. A senior official at the Kuwait Ministry of Public works invites Dutch companies to forgo business cooperation with Kuwaiti counterparts to benefit from the several opportunities available in Kuwait, saying 'After visiting the main ports in Holland, Port  of Rotterdam and Port of Amsterdam, and taking a closer look at the Dutch port development and management sector, we definitely encourage Dutch companies to visit Kuwait and to participate in the large opportunities available within our port sector. We are keen to establish partnerships with Dutch companies to employ Dutch technology and knowhow in building and operating our existing and new ports'.
In a move described as historic, the Kuwait's Parliament approved in 2010 a KWD 31 billion (US$108 billion) development plan. The ultimate objective of this plan is to boost economy and turn Kuwait into a financial and trade centre in the Gulf region. The 5-year plan entails hundreds projects aimed at developing key sectors in the country, mainly infrastructure (port and airport), transport, healthcare, education and energy. The plan outlines several mega and iconic projects to be implemented including the new business hub (Silk City), a railway and metro system and major investments in the oil sector investments to raise production capacity and modernize current facilities.
Major development of Kuwait's port infrastructure
Kuwait has always been a maritime trading country where harbours play an important in its development. Its strategic location at the head of the Persian Gulf lends itself as an ideal link with other trading nations including Iraq and Iran to the North and Saudi Arabia and India to the South. Kuwait have presently launched many initiatives worth millions of dollars to expand and modernise its port infrastructure to thrive its position as a regional hub for trading and shipping in the Gulf region.
Interesting port development projects in Kuwait:
The Boubyan Container Port Project
Built on the Boubyan Island, this is a key project launched by the Kuwaiti Government at an estimated cost of US$1bl. This initiative will feature a special economic zone and a centre of shipping activities as well as a multi-media transport network and a 25km causeway. The deep seaport is planned to serve the export and import requirements for the reconstruction of Iraq for 20 years. Upon its completion, the port will have a total handling capacity of 2.5 million containers per year. The port is built over four stages. This project is part of a larger development plan for Boubyan Island which includes creating nature reserves, tourist resorts, hotels and a residential area along the coastline. Total estimated of the Boubiyan Island development project is US$2bl.
Client: Ministry of Public Works
Boubyan Port will be constructed in four stages
The first phase is divided into 3 chapters. The first chapter, running from 2007 through 2011 includes soil treatment and building the new railway and the new road. The second chapter, which started in 2009 and is due to be completed in 2014, is to deepen the draught of the harbour to 30 meters to enable the recipient of larger ships whereas the last chapter of stage one aims at expanding the harbour's capacity to 2.5 million containers a year through the launch of nine docks.
The second stage of the project is planned  to add 7 additional docks to the harbour. This stage is planned to commence in 2016 and should be completed in 2021. In the third stage 8 new docks will be added  to the port between the year 2023 and 2028. The final stage of the project will add another 36 docks to achieve a total number of 60 docks by 2033.
Client: Kuwait Ministry of Public Works.
New Oil Terminal
Kuwait Oil Company (KOC) is to construct a new oil terminal in Abu Halifa, east of the Al Maqwa oil field. The new terminal will enable ships to dock 300 meters from the shore at a platform stretching 140 meters along the shoreline. The facilities will occupy a total area of 28,300 meters, with a 30 meter buffer zone between the facilities and any residential regions.
Client: Kuwait Oil Company.

Modernising and upgrading existing ports
Kuwait currently has three main seaports, Al Shuwaikh, Shuaiba and Al Doha. Al Shuwaikh is Kuwait's largest harbour with a total area of 3.2 million m2 and 21 berths. These ports are witnessing major modernising and upgrading schemes.
Client: Kuwait Port Authority.
High demand for innovative port constructing and operating solutions
The Kuwaiti port sector presents Dutch companies with genuine business opportunities. Kuwaiti port developers and operators are looking for international expertise and knowhow for the realisation of the above mentioned projects. Demand is high for innovative products and service for the design, construction, fit-out and operation of port facilities. Infrastructure architects, consultants, suppliers of port operation and logistics solutions are strongly recommended to participate in this mission.
Want to know more about your opportunities in the ports sectors in Kuwait? Contact us, jochem@hgcoc.com