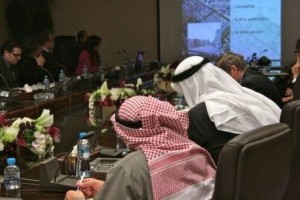 ´Dutch medical companies are welcome to visit us and show us their knowledge and expertise in hospital build and fit out especially now that we are having plans to build new hospitals and upgrade existing ones across the Kingdom.´ Purchasing department - Saudi Ministry of Health.
Registration
As a participant you will be entitled to take part in the following activities:
High-level meetings with key decision makers in the Saudi health sector;
The opportunity to present your company to main market players within the Saudi medical sector;
Your company profile to be featured in the participants booklet;
Travel and accommodation package (cost of travel and accommodation not included);
Invitation letter for obtaining entry visa to Saudi Arabia;
Local transport.
A maximum number of companies will be able to participate in this trade mission. The fee for participating in this high-level trade visit to Saudi Arabia on 3-5 June 2012 is € 3.990,- per company (excluding VAT and travel and accommodation expenses). The fee for joining the optional visit to the Middle East Hospital Build on 6 June 2012 in Dubai will be € 500,- (excluding travel and accommodation expenses)
To sign up for this exclusive opportunity, please fill out the registration form below. Upon registration you will receive a confirmation of receipt. Fields with an * are required.
Registration for this trade mission is unavailable. Please check our agenda for more information on other upcoming trade missions to the Gulf Region.